Earth Tech Environment Public Company Limited (ETC)'s main business is in the generation and distribution of electricity from alternative energy, as well as in electricity plant engineering design, the procurement of plant machinery and equipment, and integrated plant construction.
ETC's plant is the first industrial waste-powered plant in Thailand, which has the highest rate of electricity purchased from industrial waste compared to other types of fuel used in electricity generation.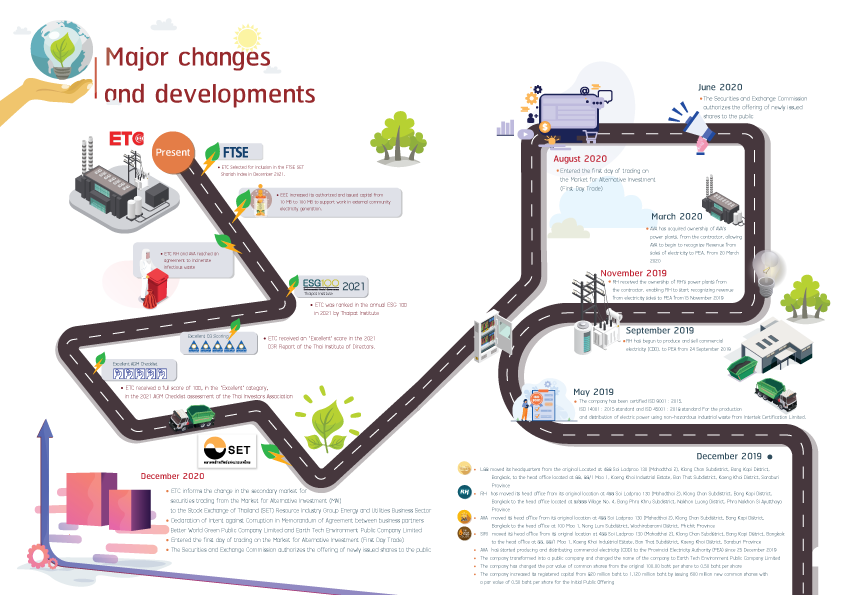 The Securities and Exchange Commission, Thailand  Permission to offer newly issued shares to the public In August 2020, the first day of trading in the Market for Alternative Investment (MAI) was made in December 2020. ETC Announces Changes in the Secondary Market for Securities Trading From the Market for Alternative Investment (mai) to be traded on the Stock Exchange of Thailand (SET) (SET) Resources Industry Sector Energy and Utilities Industry Announcing the intention to fight against corruption in the Memorandum of Understanding between the partners of Better World Green Public Company Limited and Earth Tech Environment Public Company Limited.
–  The company transformed into a public company and changed the name of the company to Earth Tech Environment Public Company Limited
–  The company has changed the par value of common shares from the original 100.00 baht per share to 0.50 baht per share
–  The company increased its registered capital from 820 million baht to 1,120 million baht by issuing shares. 600 million new ordinary shares with a par value of 0.50 baht             per  share for offering Initial Public Offering (Initial Public Offering) RH and AVA's power plants that use industrial waste as fuel have commenced commercial production      and distribution of electricity from September 24, 2019 and December 25, 2019, respectively.
The Company has started to produce and distribute electricity to PEA by using a combination of waste management between community waste and industrial waste as fuel. From 9 March 2017 onwards Established Earth Engineering and Construction Company Limited ("EEC") for the purpose of providing engineering design services. Supply of machinery and equipment Construction of integrated power plants (Integrated EPC) and management and maintenance of power plants (Operations & Maintenance (O&M)) for power plants within the Group by EEC.
The Company is preparing to submit a request and an offer to sell electricity according to the ERC's announcement by establishing 2 subsidiaries,  Ava Grand Energy Company Limited ("AVA") and the Company. Sirilapa Power Company Limited ("SIRI") to operate a power plant business that uses industrial waste as fuel. Holding shares in both subsidiaries
PEA has canceled the request to sell electricity in the form of an adder and switch to the purchase in the form of Feed-in Tariff (FiT) in accordance with the announcement of the Energy Regulatory Commission ("Kor P.O.) Therefore, the Company has applied for a new permit. and signed a power purchase agreement in the form of Feed-in Tariff in July 2015 .  As a result, the Company is currently a very small power producer (VSPP) power plant business with an installed capacity of 9.4 megawatts located in Kaeng Khoi Industrial Estate, Kaeng Khoi District, Saraburi Province. to sell electricity to PEA with a maximum power of 8.0 megawatts, using a combination of municipal waste management and industrial waste as fuel and are paid in the form of Feed-in Tariff (FiT).
Submit an application for electricity distribution and a request form for a power purchase price increase (Adder) for a mixed-waste power generation project. (using mixed waste management between municipal waste and industrial waste as fuel) with installed capacity of 9.4 megawatts Located in Kaeng Khoi Industrial Estate, Kaeng Khoi District, Saraburi Province to sell electricity to the Provincial Electricity Authority ("PEA")
Better World Green Public Company Limited ("BWG"), a related company, has restructured its shareholding and business operations within the BWG group of companies by requiring BWG to acquire ETC in the percentage of 100. 99.94 each.  To operate a waste disposal business with a recycling method and let BWG operate a waste management and management business. or unused materials Quality improvement and landfill for hazardous and non-hazardous waste, wastewater treatment, and later BWG began to use industrial waste that had been landed in the production of SRF (Solid Recovered Fuel) for further distribution as Additional fuel for various cement plant operators in Saraburi Province
Earth Tech Environment Public Company Limited (the "Company" or "ETC") was established with a registered capital of 1 million baht with the objective to operate a business as a service representative for industrial waste disposal. and has its head office located at 2674/1 Moo 2, Soi Drive-in 2, Ladprao Road, Khlong Chan Subdistrict, Bang Kapi District, Bangkok, and later in August 2007 moved the head office to be located at 2680, 2682 Moo 2, Soi Ladprao 128/3. Ladprao Road, Khlong Chan Subdistrict, Bang Kapi District, Bangkok